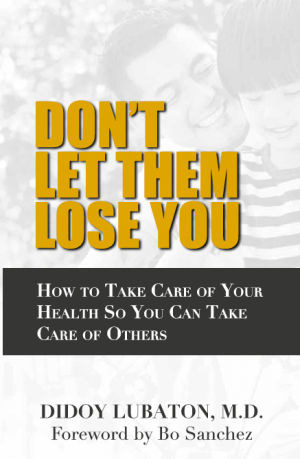 Don't Let Them Lose You
Are You Healthy Enough to See Your Loved Ones Grow?
In this book, Dr. Didoy shares simple and holistic ways to combat sickness and t be fully alive. Many people live today in regrets — wanting to pull back the time so they can be healthier and happier. You don't have to be one of them. Read this book and decide to take care of yourself better. Now.
You may also like…
Listen to Your Body

God designed your body to be healthy. When your body needs something–water, food, or sleep; love, laughter, or peace–it whispers.

But you fail to listen to your body because you are distracted by the noise outside. So, your body starves, and that's when it begins to shout–and even scream–whenever you get sick.

In this book, Bo Sanchez and Dr. Didoy Lubaton team up to encourage you to listen to and love your body. They share practical, simple, and natural ways of achieving not only well but wholeness of body, mind and spirit by consulting the Seven Doctors of the Body:

Doctor Sleep
Doctor Breathe
Doctor Drink
Doctor Food
Doctor Move
Doctor Sun
Doctor Green

You have been created whole and natural by God, and the best way to care for your body is the natural way. Be responsible for your body and tap into its God-given, built-in healing capability today.

Details

Are You Sick and Tired of being "Sick and Tired"?

The solution to your "dis-ease" might be found within the pages of this book. Learn about the missing and vital links that help maintain health, restore wellness and prevent future diseases.

Today, despite the advancement in technology, medical science still lags behind as far as the reduction of diseases is concerned. Making matters worse is the resurgence of deadlier forms of diseases whose causes remain unknown, making the ailment irresolvable. Disease management has been directed by the use of synthetic pharmaceutical products and other modalities rather than focusing on the restoration of the health – since healthy individuals do not experience any disease.

In this book, the author shares with you the two main reasons people acquire disease. The reasons are related to your lifestyle. The choice you make every day determine whether you remain healthy or not. The choice provided here is simple and will soon put you on the road to a healthier life.

Details

Are You Ready to Get Rid of the Garbage That You've Carried in Your Heart for Many Years?

Warning: You don't read this kind of book for entertainment. You read this kind of book because you want a Total Life Overhaul.

You want a Heart Detox.

In these pages, you'll discover how to dig deep and uproot the poisonous thought habits that have been buried inside you for many years. These dysfunctional thought habits have given birth to toxic feelings that have robbed you of your happiness, health, abundance and future.

In this book, you'll discover…

Three steps to manage your most difficult emotions
Five powerful handles to take charge of your most toxic feelings
Specific and doable instructions on how to overcome bitterness, pettiness, despair, insecurity, worry, and fear.

Are you ready to get rid of the garbage that you've carried inside you for so long?

Are you ready to experience radical healing now?

It's about time.

Read this book and receive God's inner healing today.

Details