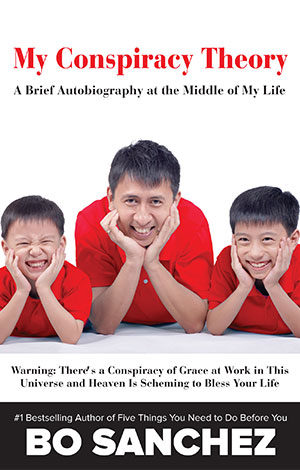 My Conspiracy Theory
Could the universe be conspiring to bless your life?
Bo Sanchez didn't have much going for him. He was an "ungifted kid." He was poor in school, poor in sports and literally poor. But something amazing happened that turned his life around. God became real to him as if He were standing right in their living room. And since then, Bo has been on a path filled with grace and blessing.
In this brief autobiography in his midlife, bestselling author and Catholic preacher Bo Sanchez opens your eyes to his conspiracy theory of grace at work in your life. He writes, "Every part of God's spiritual and physical universe is conspiring, plotting an conniving to bless your life with massive abundance. All we have to do is say yes to that reckless love."
In this book, you'll also learn 5 Keys to Grow and Expand Yourself:
Key #1: Believe You're Bigger
Key #2: Focus on Your Core Gift
Key #3: Build Your Network
Key #4: Create an Autopilot System
Key #5: Allow Love to Stretch You