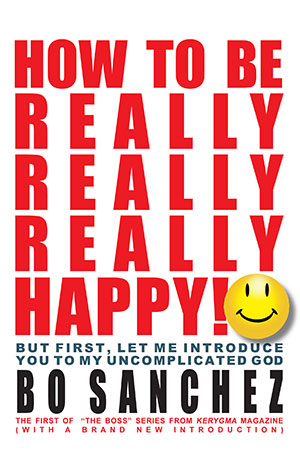 How To Be Really Really Really Happy
₱170.00 – ₱325.00
CAN GOD BE UNDERSTOOD?
Today, probably more than ever before, there is a deep hunger for God in the hearts of people everywhere. But the question is, will they find Him?
Many times, God is hidden by our own shallow fascination with high ideas that don't come down to practical, daily experiences. Do we need to be scholars to get to know God more?
Something within us rebels at the idea.
In How to Be Really, Really, Really Happy!, an amazingly humorous book that suddenly seizes its readers with its depth, warmth and wisdom, Bo Sanchez tells us that God is just around the corner. Because He wants to be understood.
From his own dynamic yet simple personal experiences, Bo presents to us different angles of the face of God that we have yet to discover.
This special collection includes the most loved of all of Bo's articles such as:
Mr. Lonely Drives Home
God Likes Washing Machines
Bugs Bunny for Now, or Donald Duck Forever
This small book can profoundly change the way you relate to God.
Description
An amazingly humorous book that will seize your heart with its depth, warmth and wisdom.