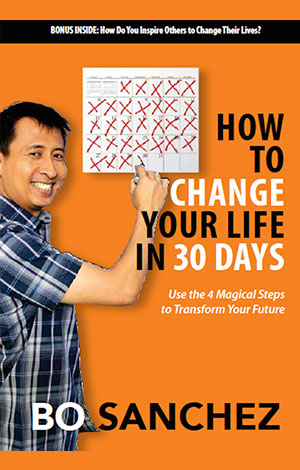 How To Change Your Life In 30 Days
₱170.00 – ₱300.00
What habits do you need to throw out?
Imagine a light bulb that's no longer lighting up. It has served its purpose. What do you do with an old light bulb? You throw it away and grab a new one. (You don't create a museum of dead light bulbs.)
In the same way, there are some behaviors in your life that aren't working for you anymore. They don't bless you anymore. They don't serve your purpose anymore. They don't make you a better person or bring you closer to your dreams. And more importantly, they don't bless the people you love anymore.
Let Bo Sanchez be your mentor and guide in transforming your life. This isnt just an ordinary book, but a step-by-step Personal Change Manual. Each page, each story, each principle will equip you to change your life — so that you don't become a museum of dead light bulbs. Instead, you'll be a house with lovely lights, shining bright and beautiful, inspiring others to also change their lives.