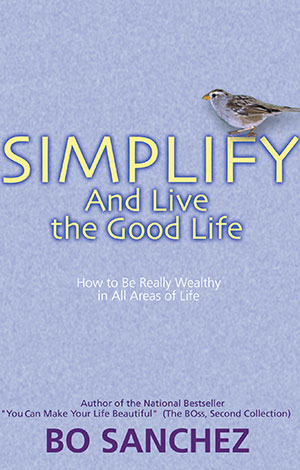 Simplify and Live the Good Life
₱170.00
SIMPLIFY AND HAPPINESS GO TOGETHER
Simplicity is the whole secret of wellbeing. – Peter Matthiessen
Why do we love to complicate our lives and make ourselves miserable?
This is the penetrating question that hits us in every page of this inspiring book.
In this book, you will learn how to create wealth in every area of your life as defined by your values, not as defined by the standards of society.
By taking the steps described herein, you will alter your priorities and start focusing on what is most essential to your happiness. You will transform the way you use money. You will raise the quality of your most intimate relationships to a higher level – because you'll discover that they are the source of your greatest joys.
And as usual, nationally renowned author and speaker Bo Sanchez grabs us with his irresistible humor, his spiritual wisdom, and his genuine warmth. The reader will know at once that the author speaks from experience, as someone who knows the terrain of the land. Like a personal coach, Bo guides, encourages, and leads us as pilgrims in this exciting journey towards our own personal expressions of happy simplicity.
Description
Create wealth in every area in your life and be guided as you journey towards your personal expressions of simple happiness.