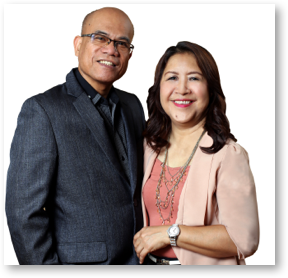 BENJ & FELY SANTIAGO
Author of Debt Destroyers
Benj and Fely Santiago are financial teachers, mentors and entrepreneurs. Benj is a mechanical engineer while Fely is an industrial engineer. Both of them worked in the semiconductor industry for over 25 years and had senior management positions. Prior to joining the light of Jesus Family, they were active members of the Magis Deo Marriage Encounter Community and members of the Brotherhood of Christian Businessmen and Professionals (BCBP) in General Trias, Cavite.
They started their advocacy of financial literacy in 2007 after attending the Truly Rich Seminar of Bo Sanchez where they were also introduced to International Marketing Group (IMG). Their learnings and realizations from that seminar ignited their deepest passion and mission to spread financial literacy in every Filipino family. From 2012 to 2014, they were also given the privilege to serve in the Financial Mentoring Ministry of The Feast PICC, now The Feast Bay Area.
At present, they are holding executive vice chairman positions at IMG and are actively leading the Truly Rich Makers team of financial coaches which they also founded in 2010. They travel around the Philippines and the world to teach as many Filipinos how to save and invest correctly, and how to get out of bad debts. The Truly Rich Makers is now present in more than 23 countries, helping families achieve financial freedom and teaching them to be truly rich.
Benj and Fely's ultimate source of inspiration in pursuing their mission is none other than their own family. They are blessed to have the most loving and God-fearing children, Rjay and Ann, Chai, Rocky, and Chiara. Love for family has always been their anchor.
It has become their lifelong vocation to spread financial literacy and teach the abundance mindset to every Filipino family. They conduct free financial coaching to individuals, companies and families all over the Philippines and overseas.
For more information about them, visit their website www.richbenjsantiago.com. For help in debt elimination and one-on-one coaching, e-mail fely. santiago@gmail.com or richbenj.santiago@gmail. com.