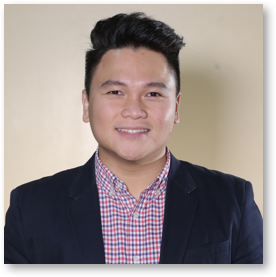 Velden Lim
Author of Bakit Single Ka Pa Rin?
Velden is the president and CEO of Fired Up Human Resource Training Services, a company that gives training, seminars, and team buildings to private corporations, o r g a n i z a t i o n s , and government institutions. Fired Up Training also conducts retreats and recollections for schools and religious organizations.
Velden is a fun and dynamic motivational speaker. He is also a Catholic lay preacher and the builder of The Feast SM Bicutan. The Feast is a weekly prayer meeting of the Light of Jesus Family founded by bestselling author Bo Sanchez.
He graduated with a degree in Bachelor of Science in Management at the Ateneo de Manila University, and finished his Master of Arts in Pastoral Ministry, major in Theology, at the Loyola School of Theology.
He previously worked at the Golden Arches Development Corporation, locally known as McDonald's Philippines. He was assigned to manage a store, then was later on transferred to business development. Prior to his work in McDonald's, Velden was also the operations manager of Regius Construction Works.
Since 2011, Velden has been going around different companies, schools, and organizations as a resource speaker and team-building facilitator. His experience in the corporate world working for McDonald's Philippines and Regius Construction Works, along with his preaching and speaking prowess, makes him a perfect source of motivation and inspiration for his clients seeking to uplift values in their organizations.
He is also a regular contributor of articles in Kerygma, the number one inspirational magazine in the Philippines, FiSH magazine for the youth, and Didache, the leading daily devotional publication in the Philippines.
Apart from his talks and written works, he also inspires people online through his video blogs: #RelationSHIFT and #VeldenListens posted on his Facebook page: www.facebook.com/limvelden.
Velden's advocacy is all about inspiring people, particularly in the area of relationships. He believes that life is great when relationships are in order.
His most important relationship next to God is his family. Velden is happily married to his beautiful wife, Moriel, and a proud father to his two sons, Zion and Zaire. Get to know him more at www.veldenlim.com