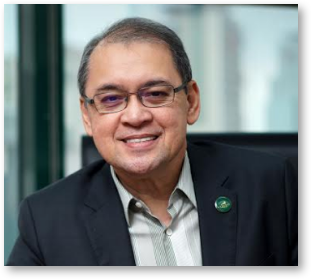 Rex Mendoza
Author of Trailblazing Success and Firing On All Cylinders
Rex Mendoza is the president and CEO of Rampver Financials, a dynamic niche player in financial services specializing in investments and the biggest nonbank distributor of mutual funds in the Philippines. He is a director of several firms, which include Globe Telecom, Prime Orion Properties, Inc., Esquire Financing Inc., the Cullinan Group, TechnoMarine Philippines, Seven Tall Trees Events Company, Inc., and Mobile Group, Inc. Rex is also a member of Bo Sanchez's Mastermind Group and is cited by many as one of the best leadership and business speakers in the country. He is the author of Trailblazing Success, a certified national bestseller. Rex served as the president and CEO of Philam Life, one of the country's most trusted financial services conglomerates and was chairman of its affiliates and subsidiaries. He was also senior adviser to the Chief Executive Officer of the AIA Group Ltd. Prior to this, he was senior vice president and chief marketing and sales officer of Ayala Land, Inc. He was also chairman of Ayala Land International Sales, Inc., president of Ayala Land Sales, Inc. and Avida Sales Corporation.
Rex has a master's degree in Business Management with Distinction from the Asian Institute of Management. He was one of the ten Outstanding Graduates of his batch at the University of the Philippines where he obtained his bachelor's degree in business management with a double major in marketing and finance. He was awarded Most Distinguished Alumnus of the UP Cesar Virata School of Business. He is also a fellow, with distinction, at the Life Management Institute of Atlanta, Georgia, USA, a registered financial planner, and a four-time member of the Million Dollar Round Table. Rex was a professor of marketing and computational finance at the De La Salle University Graduate School of Business. He taught strategic marketing, services marketing, and services strategy. He has served as chairman of its marketing department and was awarded as one of the university's most outstanding professors.
Rex is married to Anna, who is chairman and treasurer of Rampver Financials. They have three children. Peevee is a senior property specialist at Ayala Land Sales, Inc., Enro is an assistant brand manager at Globe Platinum, while Reanna is taking up Management Engineering at the Ateneo de Manila University.