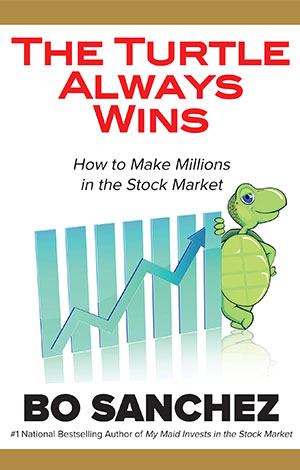 The Turtle Always Wins
₱170.00 – ₱299.00
Follow the Strategies of This Book and You'll Create Wealth Over Time.
Fact: Eighty-five percent of people who get into the stock market lose their money. That's the reality.
But that's because these people don't know that the turtle always wins.
In this highly inspiring, extremely practical book, bestselling author Bo Sanchez will teach you the "Turtle Strategy" that will protect you from losing money and make you retire a multimillionaire.
In these pages, you'll learn…
Four different kinds of animals that exist in the stock market;
Common mistakes you need to avoid in the stock market;
How to use the Turtle Strategy to make your millions;
Six Lifestyle Principles of the Turtle to grow your wealth;
Bo's Strategic Averaging method (SAM).
Bo isn't just a millionaire – he's a millionaire maker. He has helped thousands in creating their wealth through his TrulyRichClub. He invites you to do the same. Apply the Turtle Strategy in your finances and share this powerful game plan with your loved ones. That way, you become a millionaire maker; too.
Description
This book will teach you the "Turtle Strategy" that will protect you from losing money and make you retire a multimillionaire. In there pages, you'll learn…
· Four different kinds of animals that exist in the stock market;
· Common mistakes you need to avoid in the stock market;
· How to use the Turtle Strategy to make your millions;
· Six Lifestyle Principles of the Turtle to grow your wealth;
· Bo's Strategic Averaging Method (SAM)