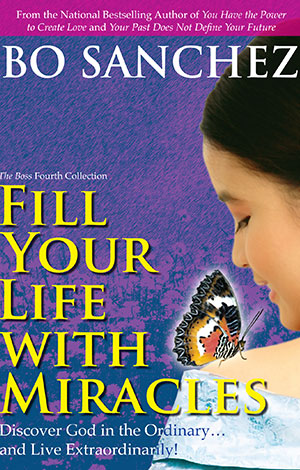 Fill Your Life With Miracles
₱170.00 – ₱250.00
THIS BOOK IS ANOTHER MIRACLE OF A CONTINUING SERIES OF MIRACLES…
Bo Sanchez' books have blessed millions of readers with their simple yet powerful, life-changing messages. As proof, every single day, Bo's inbox overflows with grateful emails from readers, ages nine to 99, from almost every part of the planet.
Ironically, Bo still doesn't consider himself a great writer.
When praised for being one, he would say, "I just like to tell stories."
But it's specifically these stories that have touched hearts. Thousands have written to him, declaring that their lives have been radically changed by his writings.
His books are miracles in themselves. He has written seven so far, and all of them have become bestsellers.
One of his most widely read books are the collections from "The Boss" articles from Kerygma, the #1 inspirational magazine in the country.
The book you hold in your hand is the much-awaited fourth collection of this bestselling series.
This book can profoundly bless your life.
Description
A compilation of thirty-six bite size pieces of wisdom put in simple words, it is sure to captive your hearts with ordinary stories and talents that anyone could identify with. This book reminds us to once again, pause and look into the miracles that we can't find in our lives.