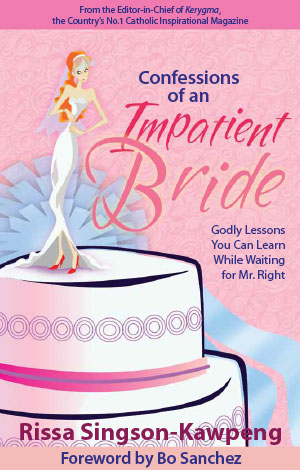 Confessions of an Impatient Bride
₱170.00 – ₱250.00
If you're impatient to find out what life has in store for you, then don't put this book down!
In this delightful, girl-to-girl, let-your-hair-down book, Rissa Singson-Kawpeng shares her funny, tear-jearking or sometimes downright embarrassing experiences as a woman finding her place in this world.
Taken from her column "Just Breathe" that appears in Kerygma, the country's no. 1 selling inspirational magazine, this paperback chronicles her struggles and victories as a single woman in pursuit of her calling in the Lord and, later, how God fulfilled His many promises regarding marriage and having a family.
Through her stories and godly insights, learn how you can:
Nurture your soul with God's Word and discover His grace at work in your circumstances.
Eliminate your worries and enjoy life where your are – right here, right now.
Enjoy your single life to the hilt while waiting for Mr. Right to take you to the altar.
Overcome your trials and sorrows with the strength of God.
Stay happy even when life isn't going according to your plan.
Discover God's presence in the mundane and the ordinary.
And many more life-changing lessons!
Description
Reading this book is like listening to your best girl friend sharing about valuable lessons in life that you should pay attention to if you'd like to spare yourself from unnecessary heartaches while waiting for your time to come. An inspiring read for young women and those yearning to get hitched. Good things come to those who wait and read Rissa Singson-Kawpeng's confessions of how she made the most out of single life and received her one best thing.
Additional information
| | |
| --- | --- |
| Weight | N/A |
| Dimensions | N/A |
| Format | |