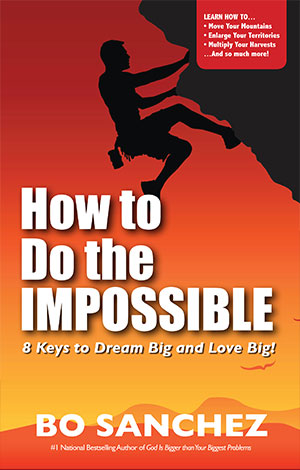 How to Do the Impossible
₱170.00 – ₱275.00
Should You Think Small, Act Small, and Be Small!
Some Christians connect big thinking with big ego. Some Christian leaders actually teach that good and humble people should think small, act small, and be small. But that's not true! It's very possible that small thinking can  mean small love. And small thinking can also mean big fears. Bestselling author Bo Sanchez believes that God is looking for Big Dreamers and Big Lovers.
Will you be one of them? In his powerful book, How to Do the Impossible, you'll learn Eight Keys that will chance your life forever, such as how to "Move Your Mountains" (Key 1), "Enlarge Your Territories" (Key 2), "Multiply Your Harvests" (Key 3), and five more Keys of personal greatness!