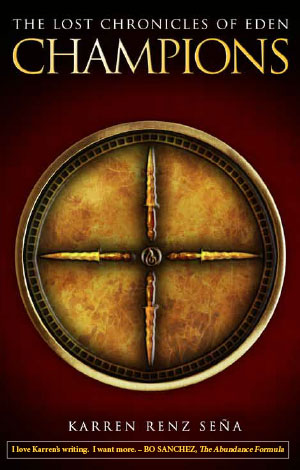 Champions: The Lost Chronicles of Eden
₱170.00 – ₱250.00
IN WAR, HEROES ARE MADE. LEGENDS ARE BORN. CHAMPIONS WILL RISE.
Present day, Cielos, the city closest to heaven. The Sword of Sargatanas has been stolen from the most powerful stronghold in Cielterra. When used at a time when the planets align, the sword has the power to open Gate Pandora and unleash unto the Worlds legions upon legions of monsters and beasts from hell.
Present day, location undisclosed. One clueless Human acquaints himself with the barrel of a gun—belonging to the woman he almost fell in love with, no less—and finds himself kidnapped and whisked to a world standing on the brink of war.
The Worlds—both visible and invisible to us—are in danger. The Towers that guard the Flaming Sword of Eden have chosen the heroes. It just so happened that the heroes aren't really… hero-material. Not at all.
Seven angry, sarcastic, violent, belligerent, uncaring and uncompassionate young men and women were forced to team up to stop a possible apocalypse from happening. As they journey towards the Far West to retrieve the stolen sword, the seven Champions brave one trial after another (including, but not limited to, falling in love with ill-tempered bullies) and ultimately find out what it means to become a true hero.
SKU:

N/A
Category: Fiction and Creative Non-Fiction
Tags: books like divergent champions by karren renz sena, books like hunger games champions by karren renz sena, books like narnia champions by karren renz sena, Champions, champions by karren renz sena, Epic Fantasy, Fantasy, Fiction, filipino books for young adults, filipino harry potter, filipino hunger games, filipino narnia, filipino readers choice awards, Karren Renz Seña, karren renz sena champions author, karren renz sena young adult novel champions, pinoy harry potter, pinoy hunger games, pinoy narnia, Shepherd's Voice Publications, SVP, Young Adult