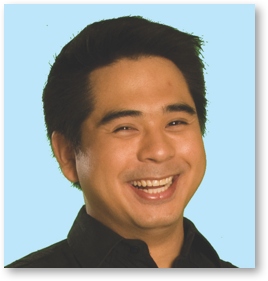 George Gabriel
Author of Love Life and Live Life
George Anthony Tolentino Gabriel has been passionately serving the Lord in the renewal movement for over 20 years. He is currently a Feast builder, Kerygma preacher and the worship director of the Light of Jesus Family. Over the years he has also developed himself as a writer, resource speaker, retreat master, team-building facilitator, stage performer, voice talent and event director. At age 12, his parents brought him to the BukasLoob Sa Diyos Covenant Community where he gave his life to God through a Youth Life in the Spirit Seminar. He actively served as a facilitator, music minister and worship leader throughout his entire youth and single adult life. For many years, his family served as presenters in the Family Encounter program. This, for him, was the greatest privilege his family has ever been given — to give witness together to the marvels the Lord has done in their life and to see other families transformed by His love. He continued serving in
these ministries when he later moved on to the Serviam Catholic Charismatic Community.
His longtime dream of working full-time for the Lord came true when he became part of the Light of Jesus Family. He is currently the managing editor of FiSH: The Zany Side of Loving God under Shepherd's Voice Publications — thrice named best youth magazine at the Catholic Mass
Media Awards. He also writes for Didache, a daily reflection devotional for Catholics, also under Shepherd's Voice Publications. He is also creative director of Shepherd's VoiceRadio and TV Foundation, Inc. which produces all the TV,136 radio and Internet programs of Bo Sanchez.
Being a versatile musician, George has been involved in the albums My Treasure in You as singer, Superblessed as singer and vocal arranger, I Know Who I Am as worship leader, and Isang Mundong Mapayapa as percussionist.He graduated with a degree in Communication from Ateneo de Manila University and has been affiliated with several cause-oriented organizations such as the Jesuit Volunteer Philippines Program (JVP), Habitat for Humanity and Triumphant People's Evangelistic Theatre Society (TRUMPETS).
George's foremost calling is to communicate the love of God creatively, excellently and passionately in whatever way he is called to — whether it be through music, media or speech. But ultimately, he believes the Gospel is best shared by loving others as Jesus did. He and his wife, Dinah, with their two lovely kids currently live in New Zealand.