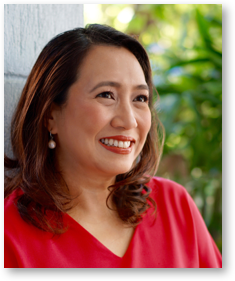 Cheri Roberto
Author of From Mourning to Morning
Losing her 14-year-old son, Bruce, to a tragic car accident has turned Cheri Roberto into a wounded healer. She compassionately heads the Mourning to Morning Ministry, the pioneer grief support group of The Feast Alabang and the Light of Jesus Family. Cheri has become a speaker in her own right as she shares her inspiring story on TV and in person to communities, retreats, and recollections.
From Mourning to Morning is Cheri's first book. She comes from a family of authors and artists. Her father is no other than Asia's marketing guru and author, Dr. Ned Roberto. Her brother is author, entrepreneur, and inspirational speaker, Ardy Roberto, and his wife, Miriam QuiambaoRoberto, is also an author, speaker, and TV personality.
Being the youngest of four siblings, Cheri got her artistic skills from her mother, Corrie Roberto, who paints and is an excellent culinary and horticultural artist. Her sister, Elaine Navas, is a renowned visual artist while eldest sister, Architect Sharon Roberto, is her partner in their design firm, Roberto Design House.
An interior designer by profession, Cheri initially took up Fine Arts at the University of Santo Tomas and worked for several advertising agencies including Basic FCB until she decided to concentrate on raising her family. She pursued Interior Design at the Philippine School of Interior Design later on in life when she became a single mother to two young boys. She then made interior design a full-time career. Cheri believes her biggest achievement is joyfully and lovingly raising her two wonderful boys, Bam Garcia and the late, great Bruce Garcia.