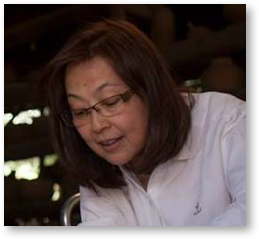 ROSANNE ROMERO
Author of Amusing Grace: A Second Helping
Rosanne Castillo Romero is wife to Omy Romero and mother to daughters Rinka and Becca. She's also grandmother, or Wowa, to Malaya, the firstborn daughter of Rinka and Zach. Rosanne is daughter to Toni Castillo and is the only girl in a brood of seven.
Afflicted with Multiple Sclerosis, a degenerative and disabling disease of the brain and central nervous system since 1986, Rosanne has used this as a platform to help individuals make sense of their personal adversities.
Rosanne and Omy are 
members of the Ang Ligaya ng 
Panginoon Community. Rosanne is also a resource speaker for forum discussions on personal effectiveness, self-esteem, family life, career and personal ministry effectiveness. She has done this to audiences in the Philippines, Singapore and Indonesia.
She continues to write for Kerygma, a monthly magazine published by Shepherd's Voice Publication. She also provides leadership development mentoring to women belonging to faith-based organizations.