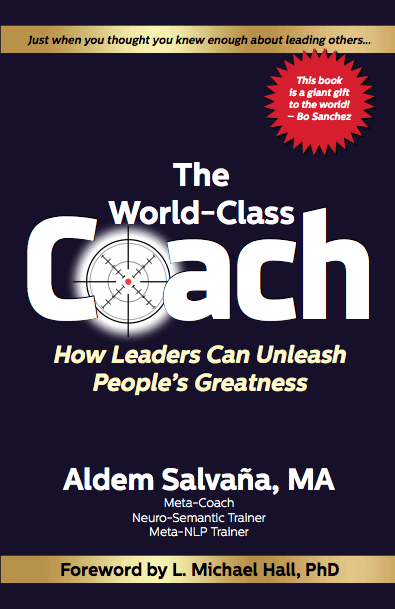 The World-Class Coach
₱170.00
You cannot be a great leader if you are not a good coach.
Just when you thought you've learned all you need to know about leading others, this book declares that nothing equips you in empowering others in this day and age as effectively as coaching.
The Meta-Coaching system, considered by many to be the Navy Seals of coaching, holds that people have all the resources within them to achieve their goals. Coaching facilitates the unleashing of the inner riches that the client may have either forgotten or didn't realize he possessed.
The Meta-Coaching system provides tools that get right to the heart of the coachee's issue with a sniper's precision grounded on empathy, through a fiercely compassionate conversation. Not much energy is wasted on telling, advice, suggestions, stories, criticism or threats which other leadership styles like mentoring, counselling, teaching, keynoting, and managing usually employ. In this way, the client takes full ownership of the resulting decision and actions.
This book tackles not only the compelling why's but also the concrete step-by-step process for how the 21st century leader or manager can layer the coaching approach to his leadership style. For those who already have a coaching training or certification, this book discusses what's available at the world-class level of coaching.
As a definitive guide to the coaching process, included within are scripts of coaching patterns that can be useful for effective delegation, giving timely feedback, crafting well-formed solutions, monitoring progress, even handling unproductive emotions along with other invisible yet crippling blocks to success.
Now is the time for a coaching revolution within your organization. Equip yourself with the least used leadership style that makes the greatest difference. In the process, you will find that the most fulfilling part of your role is to coach others to find and live their greatness.
SKU:

N/A
Category: Leadership and Career
Tags: Aldem Salvana, bo sanchez books, bo sanchez kerygma books, Kerygma, Leadership book by Aldem Salvana, Leading inspirational publisher philippines, leading publisher philippines, Meta-coaching, Neurolinguistic Programming Aldem Salvana, NLP, NLP Kerygma Books, philippines leading inspirational publisher, philippines leading publisher, publisher philippines, The World Class Coach, The World Class Coach by Aldem Salvana